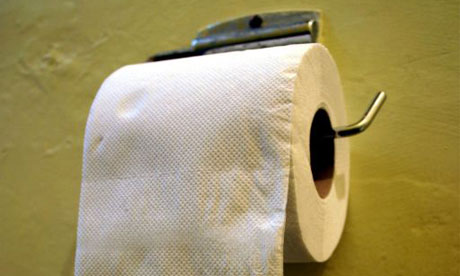 The mystery of the werewolves in the attic is nothing compared to a new crisis rumbling through the lower regions. Wulfshead patrons historically are tough and on the front lines. Any question of a softening of anal fortitude must be nipped in the bud...so to speak. We are on the cutting edge! And so custodial services, harken to the latest mandate for our virgin forests~~~
"The tenderness of the delicate American buttock is causing more environmental devastation than the country's love of gas-guzzling cars, fast food or McMansions, according to green campaigners. At fault, they say, is the US public's insistence on extra-soft, quilted and multi-ply products when they use the bathroom....
"'Future generations are going to look at the way we make toilet paper as one of the greatest excesses of our age. Making toilet paper from
virgin wood
is a lot worse than driving Hummers in terms of global warming pollution.' Making toilet paper has a significant impact because of chemicals used in pulp manufacture and cutting down
forests
.
"A campaign by Greenpeace seeks to raise consciousness among Americans about the environmental costs of their toilet habits and counter an aggressive new push by the paper industry giants to market so-called luxury brands."
Let those aggressive paper giants push away---unggghhkk. In The Wulfshead head we will push back!